Attic insulation plays a critical role in any home's overall comfort and energy efficiency. It can be installed in one of two places: on the attic floor or beneath the attic roof.
Properly installed attic roof insulation can eliminate many air leaks that waste energy and make parts of your house uncomfortable. With attic roof insulation, you'll get excellent performance from ductwork located in your attic. You can also utilize your entire attic as storage space because the insulation is not on the attic floor.
Attic floor insulation is what most of us are familiar with. Insulation on the floor of the attic can cut your heating & cooling costs and restore comfort to rooms that get too hot or too cold at different times of the year, and it's a once and done upgrade that won't wear out or require maintenance.
The experts at Tripleh H / Dr. Energy Saver are experienced in installing all types of attic roof insulation and attic floor insulation. If you're looking to upgrade your insulation, give us a call!
One example of a type of Attic Floor Insulation: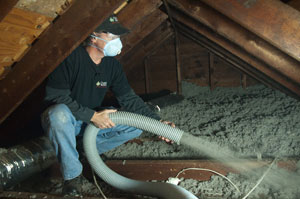 One example of a type of Attic Roof Insulation: