Heat Pump System Replacement Near Brookhaven, Islip, & Huntington
Save money and live comfortably with efficient heating & cooling
Learn how a ductless heat pump can help your home.
Heat pumps can supply heat, cooling, and hot water, and offer an energy-efficient alternative to furnaces and air conditioners. A high-efficiency system also provides superior dehumidification, which means less energy usage and greater comfort during the summer months.
If you're interested in replacing your outdated system with a new, energy-efficient heat pump unit, call us at 1-866-977-6917 or click below to schedule an on-site consultation and free estimate today! Triple H Insulation is the area's experienced HVAC specialist, proudly serving Brookhaven, Islip, Huntington, and the surrounding areas.
The main types of heat pumps
Heat Pumps
Air source heat pump

Uses air temperature as a heat source or heat sink.

A ground-source or geothermal heat pump

Utilizes the stable temperature of the earth at depths beyond 6ft.

a ductless mini-split heat pump

Air-source model designed to heat just 1-3 rooms.
The professionals at Triple H Insulation can advise you as to which unit will work best for you. No matter what system you end up with, you'll be sure to experience energy savings and improved home comfort.
High-efficiency heat pumps: more than twice as efficient as older models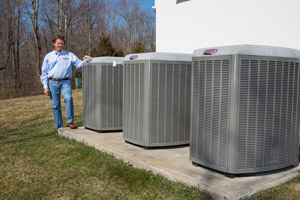 A heat pump does what its name suggests: It "pumps" heat from one location to another. Most are equipped with reversing valves that enable them to provide both heating and cooling.
Even in perfect condition, an older heat pump may be operating at a SEER (seasonal energy efficiency rating) of just 6-8. A new, high-efficiency model will have a SEER rating of 19-20 - two to three times more efficient!
Check out some of the advanced features found in today's high-performance heat pumps:
Taller exterior profile for improved air circulation and heat exchange.
Quieter performance.
2-speed compressor for energy efficiency.
Variable-speed blower for improved comfort and energy performance.
Superior humidity control.
Water heating capability to dramatically cut water heating costs and eliminate the need for a separate water heater.
Don't forget your ductwork!
Leaky, poorly insulated ducts will cut heat pump efficiency by 20% or more. An imbalanced ductwork system will cause some rooms to be too cold and others to be too hot. Make sure to have Triple H Insulation check your ductwork system for these common but easily serviceable problems.
Schedule your free estimate for a heat pump system today
Ready to find out which HVAC system is right for your home? If you live in Huntington, Islip, Brookhaven, or nearby, call us today to schedule a free estimate on heat pump replacement.
*Electrical work required for the installation of these systems will be provided by a licensed and insured electrician