Expert Electrician Serving Brookhaven, Huntington, Islip & Nearby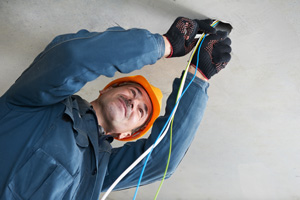 Safe & sound. Answer all your electrical needs with a single phone call. Triple H Contracting will help you evaluate your options for repairs, upgrades and replacement work to make sure you get the best performance and value.
Count on us for all your electrical needs
We all know the basic measures to prevent the waste of electricity, like turning off lights when you're not in a room, using LED lighting and buying energy-efficient appliances. Though these actions help, there is more that can be done to use less electricity and save money.
At Triple H Contracting, LED lighting, new or replacement LED linear panels are our specialty and we are here to make your home or business as energy efficient as possible. With a staff of licensed electricians and nearly two decades of experience, we are not only highly qualified but extremely dedicated to optimizing homes' and businesses' use of power.
We provide free estimates for all electrical work in Islip, Brookhaven, Huntington and nearby. Contact us today!
Every home needs a good electrician
Sooner or later it's really important to have an electrical contractor you can count on for speedy, reliable service. Triple H Contracting is ready to earn your business. Our licensed technicians have the training, tools and motivation to do excellent work for a fair price.
Triple H Contracting proudly offers rebates on commercial lighting fixtures and bulbs, we happily handle all government and manufacturer's rebate paperwork so that you don't have to. As a PSEG LI Prime Efficiency Partner, we have the ability to truly make your home or business optimize energy!
Residential and commercial electrical services in New York
Our team is comprised of trained and dedicated electrical and lighting service professionals. Do not perform an installation or retrofit without calling us to see what type of rebates you can qualify for and how you can save money.
Triple H Contracting is Nassau & Suffolk Counties's trusted electrician. We provide free estimates for electrical upgrades and improvements, and custom lighting and energy-saving solutions. You can reach us by phone at 1-866-977-6917 or contact us online for an appointment today.
Looking for a price? Get a no cost, no obligation free estimate.