Home
»
Ductless Air Conditioning
Ductless Air Conditioning Installation in Brookhaven, Islip, Huntington
Stay cool with an energy-efficient ductless system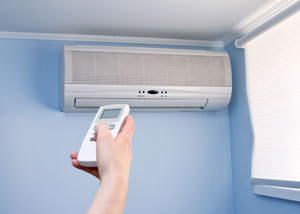 The air handler in a ductless heat pump system can be permanently installed on a wall or ceiling. This system provides the convenience and efficiency of central air conditioning without the ductwork system.
Ductless air conditioning is an ideal option for homeowners who want the comfort and convenience of central air conditioning in a home that doesn't have existing ductwork. Triple H Insulation installs ductless AC units to make it easier than ever to ensure your home stays comfortable without high energy costs.
We offer free estimates for professional ductless AC installation in Brookhaven, Islip, Huntington and throughout Nassau & Suffolk County. Contact us today to schedule a free, no-obligation, on-site cost estimate.
Why Install Ductless AC?
Greater Efficiency - Leaky, poorly-insulated ductwork can reduce the efficiency of a central AC system by as much as 30%. Because ductless AC units don't have ductwork, you won't have to worry about air leaks that reduce the efficiency of a central air system. Plus, these systems are quieter, less invasive, and more efficient than window units.
Versatile Installation: Whether you live in a new home or an older home without ductwork, are adding an addition, converting an existing space, or if you want better climate control for specific room or area of your home, ductless mini split systems systems are an efficient way to deliver comfort exactly where you need it.
Customized Zoning - Ductless mini split systems come as a single-zone system designed to provide cooling to one specific room or area, and as a multi-zone system that can provide whole-house cooling.
How Does a Ductless AC Work?
When a house doesn't have an existing ductwork system to distribute conditioned air, it can be expensive and problematic to install a conventional central air conditioning system. In the past, homeowners would have to make do with portable room air conditioners or deal with the difficulty and expense of trying to conceal newly-installed ductwork.
Ductless "mini-split" systems provide homeowners and contractors with a permanent HVAC system option that is well-suited to retrofit applications. Unlike a conventional forced-air system that relies on a network of ducts and a large, centrally-located air handler, a ductless system includes smaller air handlers that are permanently mounted on the wall or ceiling. Each air handler is supplied with electricity, a refrigerant line connected to an outdoor compressor, and a condensate drain line.
The unit typically has remote as well as console controls, and blows conditioned air into the room. Depending on its size, a single exterior compressor unit can supply one or more room-size air handlers, and each air handler can be controlled independently. The design of the system allows you to only operate your air conditioner in areas you need, further improving your home's efficiency and reducing cooling costs.
Get a Free Ductless AC Estimate Today
If you think a ductless mini-split system is the right fit for your home, contact us today to schedule a consultation and free cost estimate in Brookhaven, Islip, Huntington, NY or surrounding areas.
*Electrical work required for the installation of these systems will be provided by a licensed and insured electrician